Equity, Policy & Funding
Get On Board: Transit Funding Will Take Us Places!
From Brooklyn Park to Cottage Grove, from Burnsville to Woodbury, transportation connects us to our friends and family. It gives us access to jobs and school, the doctor's office and the grocery store. But, right now, we can't count on our buses and trains as a safe, reliable option to get around. We're stuck — as individuals, communities and the region as a whole.
But transit funding will take us places.
Imagine you're meeting a friend at your favorite restaurant, or going to prayer at your mosque. Instead of scraping the snow off your car, stopping for gas and circling for a parking spot, you…
Leave your home at any moment and bike, walk or roll to a transit stop within just a few blocks.
Don't have to worry about the schedule because the bus is so frequent it's always around the corner.
Take a deep breath because all the buses are electric and the air is clean.
Have plenty of money in your wallet because the bus fare is low — or free.
Nod to a transit ambassador as you board a train that feels safe and welcoming to all.
Chat with a neighbor who's headed out to a suburb or into the central cities because our buses go everywhere.
That's not a dream. It's a proposal at the state legislature right now.
With a less than 1 cent sales tax in the metro — a penny on the dollar — we can make great transit a reality. A metro-wide system that is fast, reliable, and convenient while increasing our region's economic competitiveness is achievable as part of a comprehensive transportation package.
For decades, big auto companies and the fossil fuel industry have spent unfathomable fortunes to mislead our policymakers to believe that streets are exclusively for cars and climate pollution isn't a threat. They've vilified transit and the people who use it in order to funnel our tax dollars toward car-based infrastructure that widens inequities based on race, age, income, and ability. Now, our communities are long overdue for transit investments and one-time funding isn't enough.
Move Minnesota is proud to be working with the Transportation Forward coalition to advance this proposal for dedicated funding.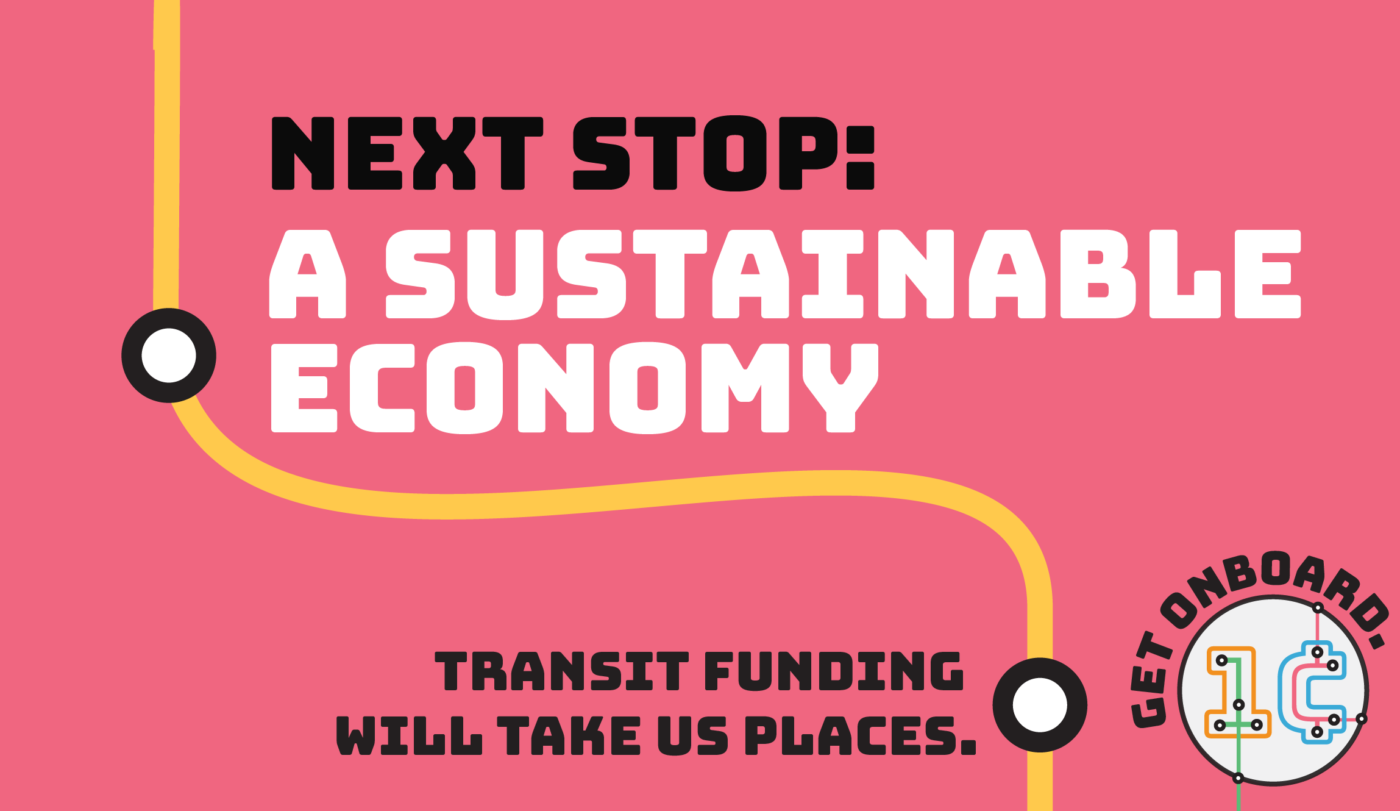 Why a sales tax?
A metro-wide sales tax is a forward-looking solution that can fund our transit needs now and for years to come.
In order to meet our needs as a world-class metro area, we need to develop a funding stream that is dedicated, and long-term. One-time surplus money is not a solution because we'll need continued investment to spur job creation, boost economic growth, and serve an aging population.
Because it is self-sustaining, a sales tax protects transit infrastructure and maintenance from being reliant on the state's budget forecasts and legislative makeup. This means it won't be beholden to politics, and won't get pit against other worthy state investments, such as education or housing.
An investment in transit is an investment in our region's climate and public health, an investment in our choice and freedom, and an investment in our communities and economy. Most importantly, it's an investment in our future.
Why now?
CLIMATE: Minnesotans care about protecting our air and climate. Transportation is the biggest source of climate pollution and, within the transportation sector, more than 70% of emissions come from passenger vehicles, light-duty trucks, and medium- to heavy-duty trucks. Minnesota must reduce driving rates to meet climate obligations—that's the math and that's state policy, as articulated in Minnesota's Climate Action Framework and MnDOT's Statewide Multimodal Transportation Plan. A recent statewide poll commissioned by Move Minnesota found that about one-third of Minnesotans would take transit if they had greater access where they live. To reduce driving rates, Minnesota must fund great transit.
EQUITY: Fast, reliable mobility should be available to everyone. From St. Paul to Minnetonka, we all need to get around. More travel options makes this possible. A recent statewide poll commissioned by Move Minnesota found that while 86% of white respondents said they own a car, only 66% of Black or African American respondents and only 67% of those reporting a disability own a vehicle. Great transit, biking, walking, and rolling provides greater access to education, employment, healthcare, civic engagement, social and cultural opportunities, and more.
PROSPERITY: Better transit helps families save and spend locally. The sales tax comes to just $150 per year for individuals in the metro. According to the Bureau of Transportation Statistics, the annual costs associated with car ownership rose to $10,729 in 2022. Households without a car — who can rely on safe and reliable transit, biking, rolling and walking options — spend $5,000 less per year on transportation costs. That's more than $400 per month more to cover rent or spend with local businesses.
Take Action!
Tell your state legislators that you support dedicated, long-term funding for transit as part of a comprehensive transportation bill!
Spread the word on social media using the provided graphics and assets, and link to the getonboardfortransit.org website!
Talk to your family and friends and let them know why dedicated transit funding is important, and show them how to contact their legislators in support.