Policy & Funding
Hennepin County District 1 Candidate Stances on Transit and the Climate
Move Minnesota, StreetsMN, and Sierra Club Northstar Chapter teamed up on a questionnaire for candidates running for Hennepin County Commissioners to learn their stance on transit, complete streets, and pedestrian safety here in Hennepin County.
This election cycle, there are 4 open seats for Hennepin County Commissioner in Districts 1, 5, 6, and 7. The questionnaire was sent to all candidates in these districts. Some candidates chose not to respond. Read on to see the response from District 1 candidates, Jeff Lunde and De'Vonna Pittman.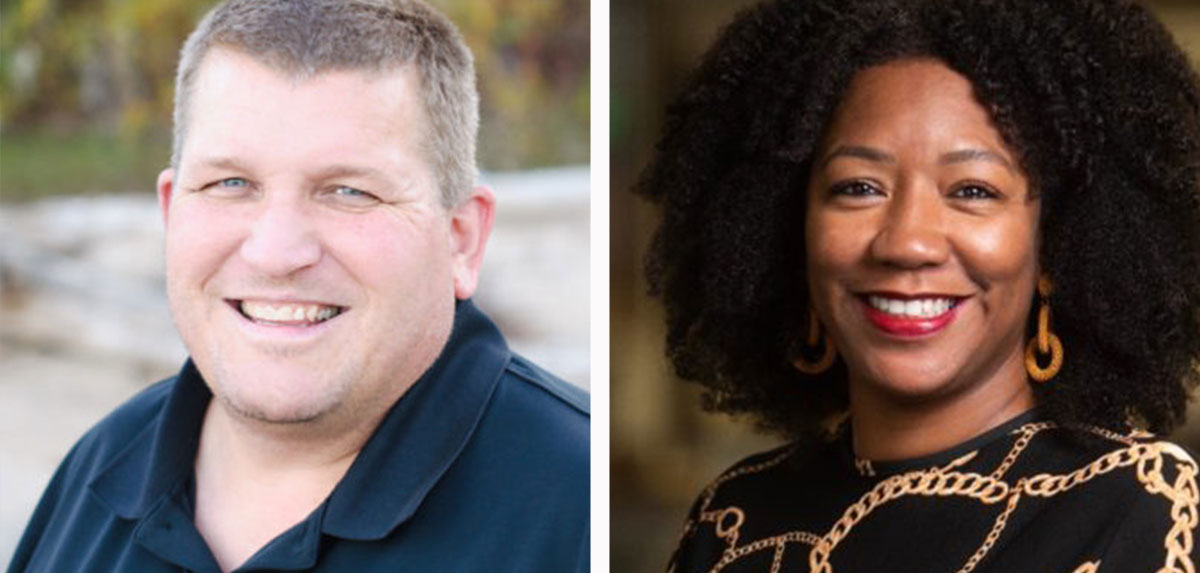 This questionnaire is for candidate and voter information only. Participating organizations will not be making endorsements in any Hennepin County commissioner race in 2020.
Question 1: Climate Change.
Climate change is harming and threatens communities in Hennepin County, Minnesota, and across the globe. Transportation is the #1 source of climate change pollution in Minnesota and the nation, and 68% of those emissions in Minnesota come from cars and light trucks. What role should the county plan in addressing these emissions, if any?
Jeff Lunde
Hennepin County should strive to have a multi modal system of transit where we work with the cities to implement transit options that make sense locally. It is not enough to have plans or programs, what truly matters is what is implemented within our county. By working closely with the cities, we will get much more done in the way of transit options that consume less energy and emit less pollution. Another key aspect of this work is to quantify and validate the trust costs of energy usage and pollution.
When opportunity for investment in renewal energy arises, we need to advantage of it. In Brooklyn Park, as Mayor, we approved the largest solar array on public grounds in the state of Minnesota. It made sense not only for the development of solar energy, but also as an investment by the City of Brooklyn Park. By the end of the 25 year term of investment, 20 years of which are for the bond, the residents of Brooklyn Park will make back their investment and reap profits in the form of energy credits the city will use to offset our operating expenses. This experience, of being able to tell the environmentally friendly story and taxpayer friendly story is one of my personal strengths.
This solar array project is an example of what can happen if we partner with private investors, provide clear information to the public to quantify the saving to the environment and the saving back to the city in the form of energy rebates.
We should accept the fact the residents of our county react in different ways to information. Some people react to the environmental impact, while others react to the financial impact. If we can tell an effective story where both sides are addressed, people will support more investments in renewable energy and environmentally saving programs.
De'Vonna Pittman
As Hennepin County Commissioner I would absolutely support the county's legislative platform and priorities around climate sustainability. And, by having conversations about how we reduce reliance on fossil fuels and allocating resources into renewable energy. This includes supporting legislation and policies to further the county's goals of mitigating the impacts of climate change; protecting and enhancing natural environments, and promoting sustainability in county operations.
I was born and raised in Illinois, and moved to Minneapolis when I was 21. One of the differences I noticed almost immediately was that Minnesota did not require emissions testing on automobiles. Emissions testing is required for cars four years or older, and must be done every two years. Although Hennepin County is focused on reducing emissions by 80% by 2050, strategies have not been determined. I would introduce this as board action as a means of reducing pollution and cutting emissions in half.
Last year the county board directed staff to identify our climate vulnerabilities and the significant sources of greenhouse gas emissions. This is important to lay a foundation for a climate action plan. I will support every effort to aggressively reduce greenhouse gas emissions, especially in the transportation sector, which includes expanding renewable energy options, and adapting to climate change impacts.
Question 2: Environmental Justice.
Climate change and pollution disproportionately affect Black, Indigenous, and People of Color. How can transportation policy improve equity and address historic imbalances in economic investment and opportunity? What specific transportation or transit efforts would you pursue to achieve this?
Jeff Lunde
By itself access to affordable transportation will not solve the systemic gaps we have in Minnesota across many indicators. However, without access to affordable transportation, we will not make progress on eliminating these gaps, such as education, opportunity, wellness and more. We need to approach the Blue Line Rail project with much more urgency. I have sat in meetings where people were not aware of the human impact of their delays and lack of action. Every delay is another segment of the next generation who will continue to suffer a lack of opportunity. Too often at the State level, people think progress is measure in decades, and thus approach these projects with a readiness to accept delays and lack of year over year progress. We should develop a metric for how much the human cost can be measured in terms of delay in beginning transit projects. These metrics would provide a value to our inaction and hopefully drive people to push hard to initiate and complete projects.
A priority for my County district would be to start and complete the Blue Line Rail project. This transit project has been in the works for over 15 years. From my viewpoint, that is 15 years of lack of access to affordable transportation directly affect 1-2 generations of families who struggle to overcome barriers to their success.
Second, adopt a bus plan that does not just measure riders, but stops and routes. In Brooklyn Park, I have seen routes through areas where transit is sorely needed, gradually decrease or change over time. On the map, it still shows a route, but when one digs in, we found the riders have less options, they spend more time waiting for buses, and due to connecting routes, they can spend 60-90 minutes getting to their place of employment or study. We also need to increase east/west transit options as employment changes more jobs are located adjoining suburbs, not downtown Minneapolis.
De'Vonna Pittman
Most important in this conversation is that we must have Black, Indigenous, and People of Color at the table to have these discussions. I personally believe that we give too much time and energy to things that don't work. We need to partner with progressive youth groups such as Minnesota Youth Climate Strike. We need to consistently engage them, listen to them, and incorporate their innovative ideas.
Having meaningful and clean transportation alternatives in our communities connect residents to jobs, housing, and healthy lives and better food alternatives. I will pursue clean transit, meaningful transit, and will work with residents, stakeholders, and government to get it done.
Hennepin County needs to have transparent conversations with those most vulnerable to climate impacts. Including explaining what local actions help drive climate change, and how we as a community will respond. Our first priority has to be putting increased dedicated funding in place for transit. Until we have the funds we need to electrify our bus fleet and add more high frequency service, we'll never be able to adequately reduce our emissions and expand our access. That will lead to cleaner air in our urban core that has been hit worst by air pollution and greater access for everybody. We also need to ensure regional rail projects like those connecting St Cloud, Duluth, Rochester, and another trip to Chicago move forward so people have clean alternatives.
Question 3: County Transit Funding.
State and city studies show that we will need to reduce driving rates ("vehicle miles traveled") to reach established emissions-reduction goals. The County's 0.5% Sales and Use Transportation Tax, has historically been used solely for Light Rail Transit (LRT) and Bus Rapid Transit (BRT). In late 2019 the County Board narrowly voted to open up this critical transit funding source to any road and bridge purpose. What do you see as the appropriate use of this sales tax? What do you see as the role of Hennepin County in funding transit infrastructure?
Jeff Lunde
The reality facing Hennepin County is the one we all are facing, COVID-19 has dramatically changed how and where we work, and unfortunately if we work. These changes are directly affecting the revenue is receiving from our Sales and Use Tax, in that people are driving less thus consuming less gas while spending less money due to the economy and working from home. Speaking to the point, the County is getting less money from these taxes so expanding the possible areas where they can be spent will further dilute the county's capacity to support transit. Given the budget constraints, I doubt there will be any support to go back to the sole use of this tax being LRT or BRT.
The County's role is to be a stop gap when state funding falls short. As we have often seen, transportation dollars are not allocated by need but sent elsewhere in the state despite the amount of tax and income tax residents of Hennepin County put into the State Treasury. The County must continue this role as I would expect the projected state deficit will affect MSA funding for roads that is allocated to the cities.
This will mean cities will be looking for partners who can help fund critical projects within Hennepin County, we need to affirm our support for road projects where benefits and costs are shared between the County and Cities.
De'Vonna Pittman
District 1 is in dire need of the Blue Line extension, I would not have been in favor of utilizing those funds for anything, but transit. Hennepin County's role in funding transit infrastructure is very clear in the legislative platform and priorities to support legislation that ensures that BLRT meets the requirements to secure a full funding grant agreement, and to support a comprehensive transportation package that provides new revenue for roads, bridges and transit.
I strongly support legislation that creates funding to encourage adding rapid solar recharging stations and other renewable energy projects to Minnesota' s electrical infrastructure. One size won' t fit all; it will require multiple strategies to continue the reduction of Minnesota' s greenhouse gas emissions.
Question 4: Bottineau/Blue Line Extension.
This LRT project was deemed unworkable on its currently-planned route on BNSF right-of-way. There is still substantial interest in a Bottineau project because transportation connects people to social activity, economic opportunity, educational institutions, healthy food, and critical health services. How should this project proceed, if at all? What would you see as a valuable process in the coming months and years, and what would you see as a valuable outcome at the end of your preferred process?
Jeff Lunde
I am one of the leading proponents of a transit system that works to provide affordable transportation to all and recognize we can do better to provide transportation for east/west transit systems. I led the founding of the Blue Line Now Coalition, which represent the shared goal of the cities along the proposed Blue LRT. I have testified in front of the FTA as well as lobbied in Washington DC and St Paul for transit dollars to supports LRT and BRT lines through the entire metro. As well, I have supported and voted to allocate money to the development of bike/pedestrian trail system that connects all of our communities to the different city centers and parks throughout Hennepin County.
Recently we have seen little statewide leadership for this project, and a complete lack of urgency. We have expressed our concerns to the Governor's Office and the Met Council. I remain in close contact with all federal, state, county and city officials on this project as I understand delays have a direct and immediate impact on our ability to offer access to affordable transportation. I recently led conf calls with the Chair Zelle of the Met Council and Governor Walz to make the case for more urgency and public declaration of support for the Light Rail as the mode for this transit project.
Given the realities of BNSF, we will be forced to look at the alignment of the project, but this is no trivial process. Initial indications are two years of public engagement, which is actually a repeat of prior public engagement. The only way the alignment change would take place, is if it run through a different area of Robbinsdale meaning widescale impact on home and business owners. Also, in prior public engagement, North Minneapolis neighborhoods objected to the potential for similar impact on their neighborhoods, where neighborhoods would be split in two and land owners directly affected. While the Met Council believes this engagement will proceed without opposition, I know better cause I was there during the first engagement on alignment.
As I mentioned earlier in this my answers, delays have a disparate impact on the very communities who will benefit from access to affordable transportation. While the temptation for substituting buses always hovers over this project, we know the benefits to our communities most in need will be best met by the BLRT project started and completed.
From a leadership perspective, no leader outside of Commission Opat, has been more engaged on all aspects of the BLRT project than myself. I have lobbied at the county, state and federal including testifying in front of the FTA in DC where I made the case for transit investments metro wide, not just in our area. I will bring to the Commissioner's role an intimate knowledge of all aspects of this project including where and who holds the keys to different parts at the state and federal level. When the media is looking for comments on the BLRT, they call me.
De'Vonna Pittman
The project should proceed with clear expectations about who we are building the line for. That means revisiting every blue print and including perspectives that were missed. A valuable outcome will include access to jobs, housing, healthy foods, and transportation for those who need it most. I am looking forward to the opportunity for new invigorating conversations about the Blue Line Extension. We need to use this setback as an opportunity to ensure the Blue Line helps create economic prosperity for the communities it serves. Mobilizing a cross-sector collaborative for systemic change is critical.
The blue line extension is long overdue and is essential to creating a transit system that serves all of our community members. The fact is that we need high quality transit connections. We are embarking upon a new chapter and I plan to focus on executing authentic community engagement. This will be so important in reducing disparities along the line and creating economic empowerment for residents who will access the line.
District 1 is largely diverse with over 49% of the residents being people of color. There is an already active, established, and steadily growing minority community in District 1, so any investments must take that into consideration.
Underrepresented communities are skeptical about transportation development through their communities, so it's not enough to just acknowledge how diverse a community is. We must create a process for mutual accountability and trust. This means using data strategically for greater visibility and to drive action.
The line ultimately needs to consider census tracts where investment has been low, jobs and housing are needed, and transportation hasn't been accessible in a way that really brings stability and wealth. My main concern is not only ensuring the finality of this project, but that communities historically left out of investment are considered every step of the way.
Community engagement between all partners, stakeholders and community must improve and remain after the project is built. Conversations around service, safety, and improvements would be an added value to all.
Question 5: Complete Streets.
In 2009 Hennepin County was the first county in Minnesota to adopt its Complete Streets Policy to help make streets safer for everyone. And in 2015 the County Board approved the 2040 Bicycle Transportation Plan. Describe how you would allocate funding for walking, public transportation, and bicycling as part of the county budget. Do you support implementation of Complete Streets? If so, describe how.
Jeff Lunde
As Mayor I worked with Hennepin County to align our master bike plan with the 2040 Bicycle Transportation Plan, so my city and county were working together. This alignment allowed both the city and county to apply for state and federal funding to complete segments of our plan as the opportunity arose. We need to make sure funding for these projects continue as the existing partnerships between cities and Hennepin County call for investments over time. If the County does live up to its half the partnerships, Cities will likely delay or bypass opportunities to complete segments due to lack of money. Most of these segments are to be done with other road or utility work is being completed, thereby making it cost effective for city budgets to handle the additional expenses.
We need to develop a 10 year budget for the implementation of the 2040 Bicycle Plan after direct conversations with cities and Three Rivers Park District. All three institutional levels (county, city and park) have 10 year plans for roads, so we should align our 2040 Bicycle Plan to the road plans so we can figure out a 10 year budget and timeline for implementation.
De'Vonna Pittman
I find value in the 2040 Bicycle transportation plan. I do support implementation of complete streets. I believe if coupled with energy behind educating residents about the benefits and importance, it could be successful beyond what we've seen.
Increasing ridership among new riders would definitely be something I would focus on, especially new retirees, people of color, and youth. This would mean implementation of more paths and making it attractive to residents. and doing so would include having authentic conversations with communities where we know ridership is low. In most cases, the disparities are lower in these areas and I would allocate funding around those things when it makes sense to do so.
Question 6: Safe Streets Project Prioritization.
Pedestrian fatalities are increasing nationally. Fatal and serious injury traffic crashes in Hennepin County are concentrated on particular county owned roads. What role does the county play in ensuring safe streets for all users? What factors would you consider when determining the appropriate funding, timing, and location for safe streets initiatives? Please be as specific as possible.
Jeff Lunde
The county needs to own traffic fatalities on our roadways including vehicle and pedestrian. I support the current system where prioritization is place on roads with higher levels of accidents and injuries. As Mayor I have used these programs to target intersection between city and county roads where the damage to life and property were higher than normal. Given the funding constraints, it will be important that we continue these efforts to tackle the worse intersections based on data, not political influence. Factors would include number of incidents, severity of incidents, numbers of vehicle-pedestrian accidents, severity of those accidents and include education initiatives to tackle areas
As we have learned many of our immigrant communities find our sidewalk crossing systems to be confusing and of little sense. As Mayor, I traveled to Liberia and saw how street crossings are done in cities there, which mirror how different immigrant communities cross streets here. In my city, we have seen too many accidents among elders from these communities, thus the need for education and outreach.
De'Vonna Pittman
The county should ensure roads are safe for all transportation users. The county should continue to provide studies that produce solutions to high traffic/high accident/fatality roads and highways. District 1 has major issues around safe highways, so I would focus on where the most fatalities happen and how often and allocate funding there first. Initiatives that are lifesaving are critically important.
Specifically, highway 252 is known to be a critical area where fatalities happen. Experts suggest turning it into a highway, but that means long-time homeowners will lose their homes. An environmental impact study will need to be conducted, because increased pollution could occur. Rates of asthma are high in that area. Even though 252 is considered one of the most dangerous roadways in Minnesota, this project is currently awaiting approval after having conversations with community members, and this I think was critically missing.
Question 7: What is your vision for Hennepin County and how does transportation/transit intersect with it?
Jeff Lunde
My vision for transit in Hennepin County is one that addresses the system gaps we have for access to opportunity, education and employment. We must start to tie this lack of access to these gaps, so we can put a human and financial cost to them. If we can establish a financial model, we can start the process of tackling the root cause for other programs the county funds, such as access to healthcare and education. This transit system would be multi modal and offer different ways for people to use it to further their lives. It should be constructed in a way that anticipates future use including environmental and financial sustainability. While we might not immediately implement potential futuristic transit options, we should endeavor to make our system flexible enough to change with technology advancements without dramatically impacting the finances of our taxpayers.
De'Vonna Pittman
I have a very intimate proximity to extreme poverty, I deeply understand how access to transportation is the root of marginalization. As someone who comes from extreme poverty, I understand how important access to meaningful transportation is. My vision for transportation in Hennepin County includes incorporating an understanding of how important transportation alternatives are to many of our residents. Half of them live in poverty and are trying to create meaningful lives. We must make decisions from a perspective that honors that knowledge. We must ensure vibrant conversations include discussion about access to jobs, wealth accumulation, health, and prosperity. I am committed to ensuring engagement occurs on the front end and beyond, and that residents help shape the blueprints that they will have to live with.
Thank you to the candidates for their responses to the questionnaire.
Early voting is already underway in Minnesota. For more information on how to check your voter registration, absentee voting, and early voting please visit the Minnesota Secretary of State's website.
Read the responses for candidates in other districts: