Infrastructure, Policy & Funding
New METRO Orange Line Offers Improved Service—and Proof that Transit Advocacy Matters
The METRO Orange Line is now open! We talked to riders about what they think of the Twin Cities' new highway bus rapid transit route and take a look back at the advocacy and leadership that made it possible.
What makes the Orange Line so exciting?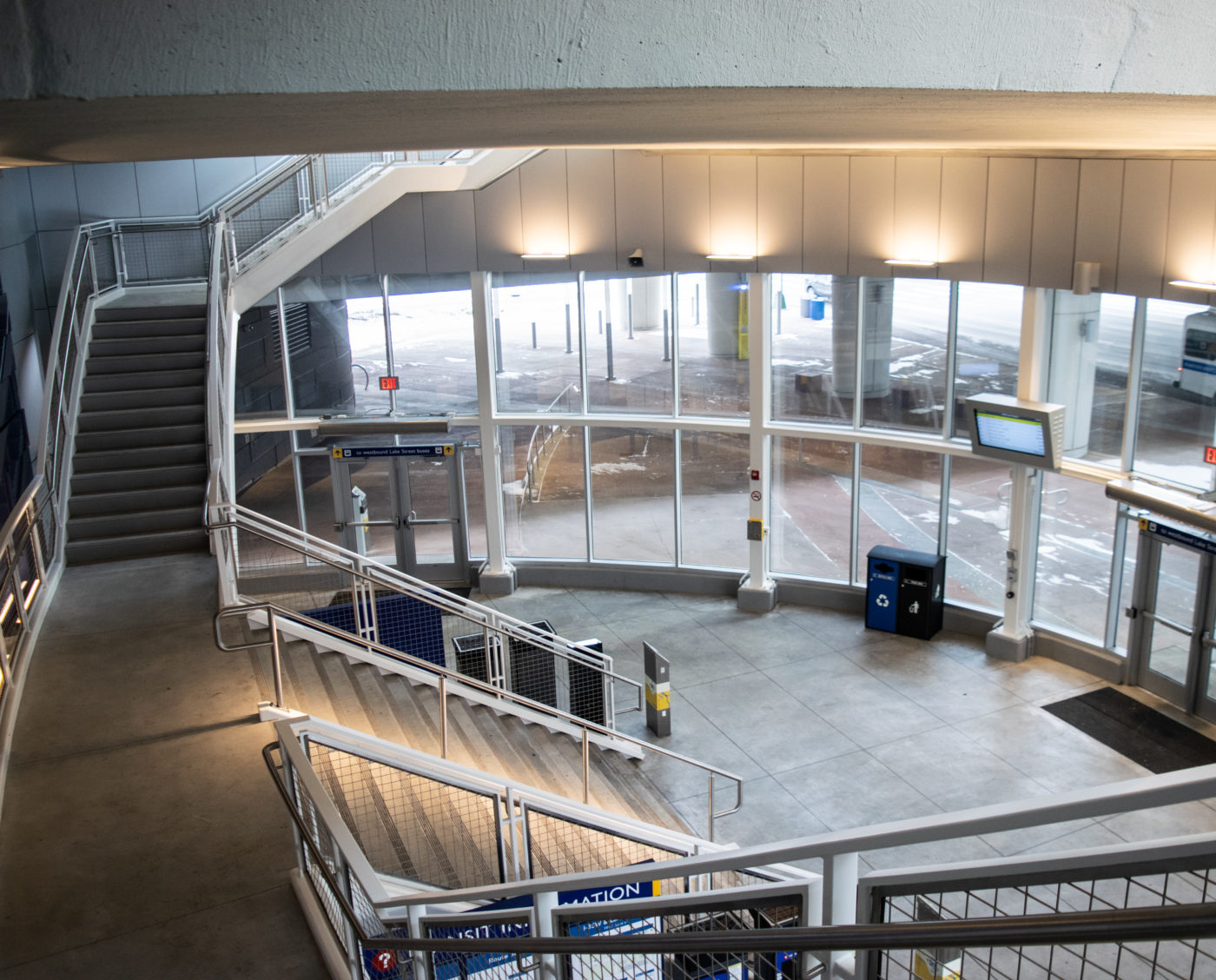 The METRO Orange Line connects people in Minneapolis, Richfield, Bloomington, and Burnsville with new and improved bus rapid transit service in both directions every day of the week. Service on the new route along I-35W is fast, convenient, and available all day long.
The 17-mile route offers many accessible, upgraded stations where you can wait for your next bus. They feature heat, real-time bus information, bike racks, and machines for paying your fare before you board. We're especially excited that the Orange Line project replaced one of the "worst bus stops ever" with a new spacious, modern, well-connected Lake Street Station (pictured) that people of all abilities can use. The new Lake Street Station lobbies connect to both the I-35W level and to street-level for easy access to Lake Street and the Midtown Greenway.
What do bus riders think?
We spoke to people along the line to get their thoughts on the new Lake Street Station as well as the rapid route itself. Liam H, self-described transit geek, told us, "The new station is really beautiful. They really went all out—it's really exciting. It's perfect." Liam also reinforced that "Transit saves a lot of money—and it's generally hassle free—or at least more than cars are!"
Mohammed H., a Burnsville resident, told us, "The line extending to my city is big. Also we got weekend rides now." Mohammed emphasized, "This is good for me and a lot of people. For connecting me to [Minneapolis]. Makes a lot more stuff possible. A lot of people don't realize buses not running on the weekends cuts off a lot of us. We don't just want to work. We want to have fun too!"
"The [Orange] Line extending to my city is big. Also we got weekend rides now. This is good for me and a lot of people. . . . Makes a lot more stuff possible."

Mohammed H., Burnsville
Transit advocacy makes a difference
Today, as we enjoy and celebrate this newest transit service connecting our communities, we also celebrate the advocacy and leadership that made it happen. It took the persistence of many, many people working together over the years to create the Orange Line—from bus riders to agency staff to elected officials and more. Crucial funding came from multiple sources: the "Counties Transit Improvement Board, the State of Minnesota, the Metropolitan Council, Hennepin County, Dakota County, and the Federal government" (Metro Transit).
The METRO Orange Line and transformative Lake Street Station truly would not have been possible without local advocates protecting and fighting for better transit. This was especially clear in 2016 when decision-makers almost pulled that crucial county funding. Move Minnesota (then TLC) helped lead an intense grassroots effort to #SaveTheOrangeLine when the entire project was at risk. We took a united stand—bus riders, environmental groups, labor unions, the local business council, and more—and we were successful! The groundswell of support from our advocates and allies sent a clear message to regional decision-makers that the Orange Line is a must-have for the metro. Whether it was in overcoming this specific threat to country funding, rejecting certain policymakers' attempts to minimize the magnitude of benefits the Orange Line would bring, or speaking up about the ways transit impacts our daily lives, sincere thanks to everyone who helped champion this pivotal project and kept pushing to see it all the way through!
Continuing to expand high-quality transit is a critical part of meeting people's needs and getting polluting fossil fuels out of our communities. With enough funding and support, many more new bus rapid transit lines could open on our Twin Cities streets and highways in the next ten years—and riders on local bus routes could see immediate improvements with more dedicated bus lanes. Alongside our partners and supporters, Move Minnesota will keep pushing for transit progress across the metro. Help us keep up the fight in the new year!