Behavior Change, Community
Art, Asthma, and The Northside Exhale
The METRO C Line has made commuting from Brooklyn Center, the North Side of Minneapolis, and the Downtown area more efficient and convenient. For many, C Line bus rapid transit is opening opportunities for residents and commuters to connect with people and spaces in this corridor in a whole new way. Move Minnesota is working with local partners to change transportation choices along this route. The project involves developing culturally-relevant education models with the communities along the line to support people walking, biking, and using transit.
The 8-mile length of the C Line encompasses business, commercial, and residential areas. Our work reaches across the entire corridor, with special focus and attention in the North Minneapolis 55411 and 55412 area codes, which have the highest hospitalization rates in the Twin Cities for respiratory-related illnesses according to a 2014 University of Minnesota study.
The Minnesota Department of Health reports that asthma rates are increased in communities of color and research revealed "asthma hospitalization rates for children living in the Twin Cities metropolitan area are 67% higher than for children living in Greater Minnesota…and asthma death rates are 4 times higher among African Americans and 2 times higher among Asian/Pacific Islanders than among whites." This disproportionate impact of air pollution on the ability to breathe is not just a sustainability issue but a race and equity issue.
Approximately 50 percent of residents who live in the 55411 and 55412 area are Black or African-American, whereas African-Americans make up only 19 percent of the larger city of Minneapolis. The air quality in this region is negatively impacted by pollution produced by cars and trucks. These pollutants are harmful to everyone, but can be deadly for those with asthma. On top of being able to breathe quality air, regional issues of housing, employment, health access, and climate are daily irritants. Education and behavior change outreach to reduce driving, and providing information about resources along transit routes addresses interconnected equity, public health, and sustainability issues in the area.
The Changing Choices Along the C Line project started in 2019 and was redesigned in 2020 in response to the COVID-19 pandemic. The goal of the project is to create a culturally responsive tool kit that provides information and educational resources about sustainable choices along the C Line. The pandemic and murder of George Floyd in 2020 impacted people all over the world, but at home, it was clear that the Minneapolis needed a collective exhale and a breath of fresh, unpolluted air. This work continues as an arts-based restorative collaboration. Move Minnesota is working with community partners and artists who have a connection in this corridor. Our list of partners is growing! We have worked with: Twin Cities Radio Network, Turning Point, and The Roho Artist Collective in collaboration with Chocolate River Publishing.
When considering our love for North Minneapolis, it was vital that we connected with artists who can help tell the story of the C Line through the lens of community. Bringing art into our engagement work invokes a sense of relatability and understanding that can open a lane for authentic conversations and community engagement. We are excited to be working with artist seangarrison on several art and storytelling pieces that highlight the connections and community vibrancy along the C Line. His work has been featured on national platforms, and most recently on MSNBC. seangarrison is a Minneapolis artist and fellow at the Minnesota African American History Museum, which is along the C Line route.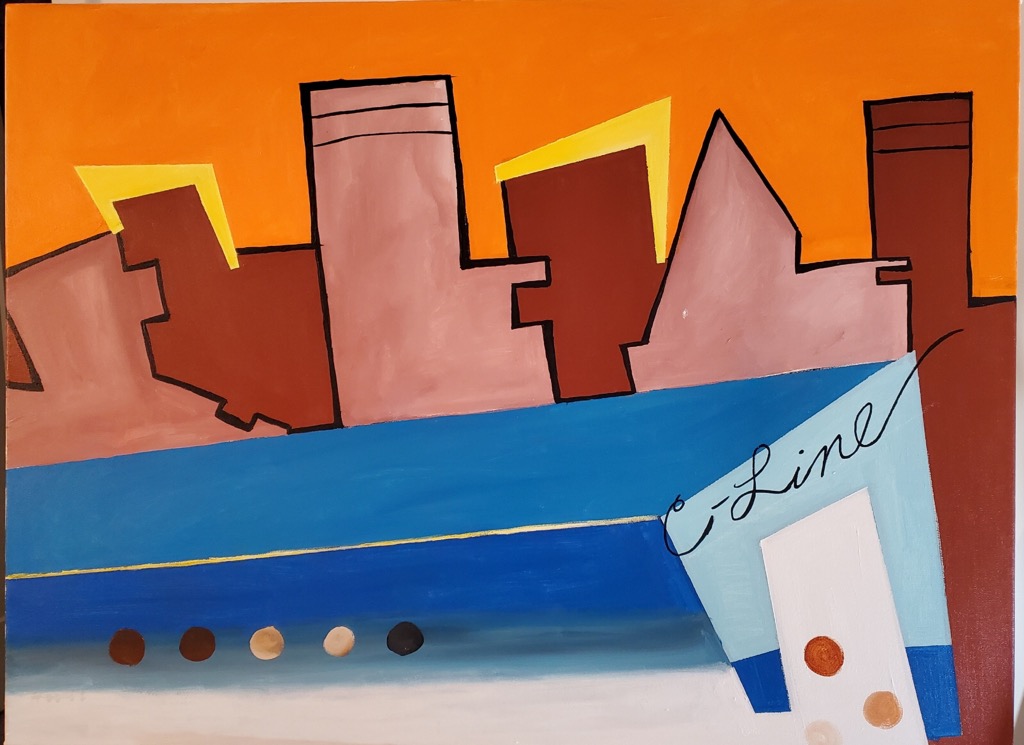 We look forward to continuing our work with community partners and artists. This summer, you can look out for Move Minnesota staff and partners at various C Line stops in North Minneapolis. We invite you to be part of our work. We want to know about your transit and commuting habits! If you live or commute in or from Brooklyn Center, North Minneapolis, and downtown Minneapolis along the C Line, please take the community survey to provide insight and feedback about your transit usage to help us learn about what's impacting you and your community. Your voice helps us understand and develop engagement that prioritizes topics raised by community members. As a way to say thank you, survey takers will be entered into a drawing to receive a pre-paid transit pass.
The future of transit is co-created by neighbors and community members. It looks like neighbors of all ages and abilities breathing better air, getting on the bus to go to school, work, and play around the city with ease and confidence. Local businesses and community spaces are thriving and filled with the foods, sounds, and faces of people who live and work in these corridors. Our work along the C Line is a step forward in ensuring that transit connects community members to the places they need to go sustainably and equitably. Using art and storytelling to share the perspectives of those who use the C Line everyday demonstrates the role of transit as an integral link and artery of the city's daily motion. Email Theresa Thompson Nix if you are interested in getting involved with our work along the C Line. Stay connected and be the first to know about upcoming C Line events and opportunities.
Contributors of this piece include Mark Olivares and seangarrison