Behavior Change
Bike Month 2022
May was Bike Month, and Move Minnesota went big. All throughout the month, we were sharing stories, tips, and routes for people on bicycles. But we couldn't let Bike Month end without bringing our Saint Paul community together and reaching out to folks however they're moving!
Bike Anywhere Day – Friday, May 20
As a twist on the traditional Bike to Work Day, Move Minnesota organized a "Bike Anywhere" Day. For people coming home—or logging off—from work, we met up to do an evening group ride featuring some great Saint Paul bike routes! We toured the Ayd Mill Trail, went for a jaunt along Summit Ave, and then hustled up Cleveland Avenue to all gather at Lake Monster Brewing! Thanks to all the folks who came out, including from the City of Saint Paul and the Saint Paul Bicycle Coalition. Additional thanks must go to Lake Monster for hosting us on their lovely patio, and La Tapatia for the phenomenal taco bar!
Chroma Zone Festival – ­Saturday, May 21
Because we just couldn't stay inside this weekend, Move Minnesota was out the very next day at the Creative Enterprise Zone's Chroma Zone "Open Street" Kickoff! This first of its kind event celebrated the start of the local mural season in this artsy area of Saint Anthony Park. Move Minnesota helped lead a bike tour of the Murals of the Creative Enterprise Zone. Within the Open Street area of the festival, Move Minnesota staff talked with community members about bicycling, taking transit, and using the bike racks on the front of Metro Transit buses. We also gathered stories and testimonials from folks about how they got around. There will be more CEZ festivities in 2022 so keep your ears out for future events in this super cool corner of Saint Paul!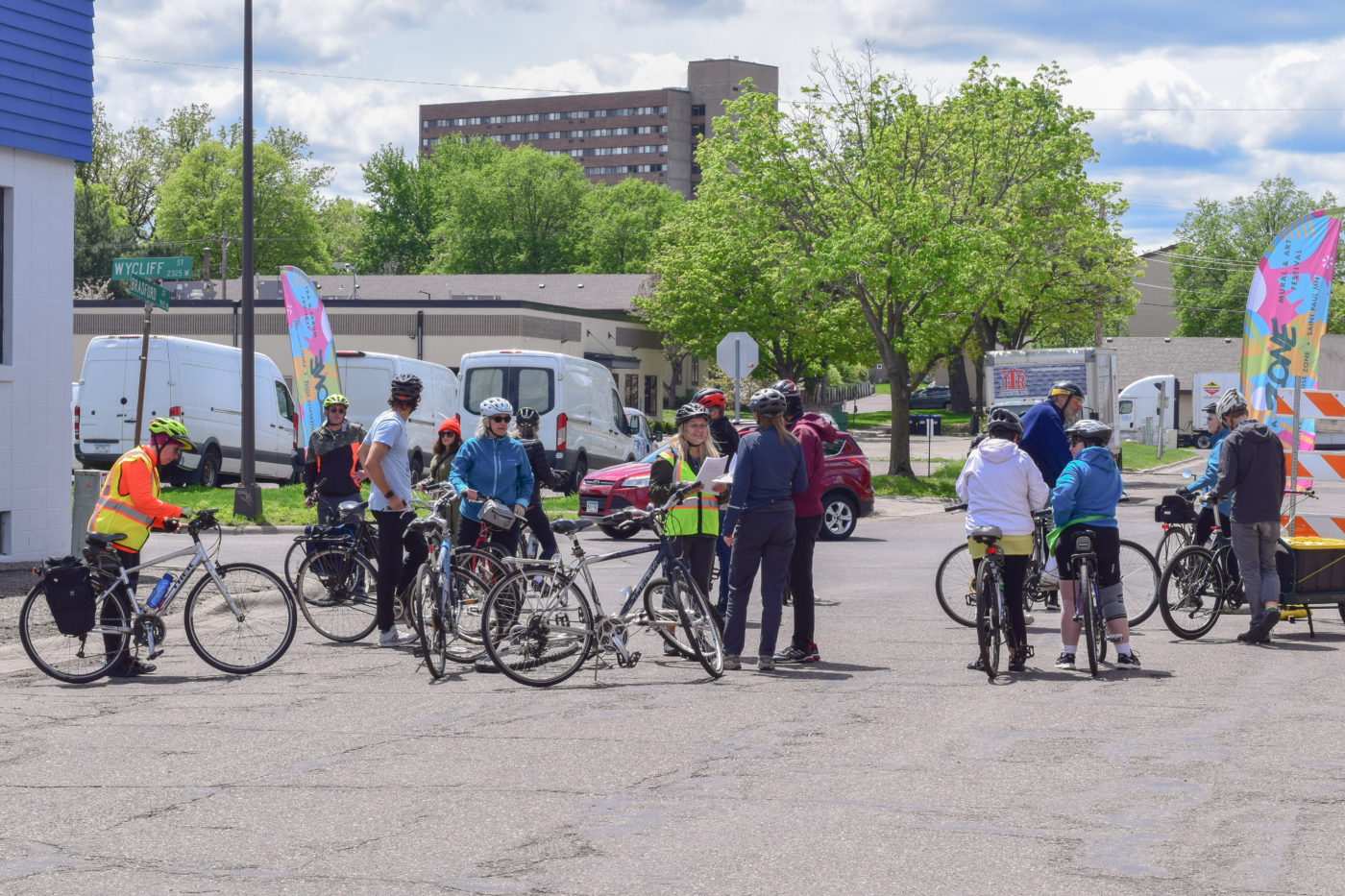 Speaking of Summit Ave…
Saint Paul's Park and Recreation Department is leading a community-led evaluation of Summit Avenue! The Park department is currently seeking community input on what people like, don't like, and would like with the iconic parkway. The project engagement webpage can be found here. This is an excellent opportunity to discuss how biking and walking on Summit can be safer and made more accessible. Tell the City what makes you feel safe, or where there are gaps between Summit Avenue and where you need to go. There will be a virtual public information session June 6 at 7 PM that folks can register for here. Summit is one of the most popular bike routes in the state—and we have a chance to make it better!
Future Events
While May just came to a close, and Bike Month with it, Move Minnesota is energized to be back in the community throughout our lovely Minnesota summer. There are lots of future events planned, including more opportunities to bike together! Sign up for our June 23 group ride exploring a portion of Saint Paul's Grand Round.
To stay in the know, sign up for Move Minnesota emails, follow us on social media, and stop by an event sometime to say hi!