Saint Paul is increasingly bike friendly. Bike parking is an important part of that–and more is needed. As the capital of our state, how people get around in Saint Paul sets an example across Minnesota for what transportation can and should be like. At Move Minnesota, we guide eligible businesses and organizations through the process to transform their locations into more bike-friendly places with bike parking readily available for visitors and employees. Eligible projects can receive up to $1,000 in support. We've helped organizations of all sizes add bike parking for their staff and patrons over the years. We can do the same for you!
Why install bike parking?
Interest in biking is up significantly in recent years and is booming during the pandemic
Offer staff and patrons a safe, convenient place to secure their bikes
Be seen as a bike-friendly business
Support cleaner air and do your part to reduce congestion
Increase your clientele without having to increase parking space for cars
The process was great from start to finish, and the bike racks are great as well! They are being utilized by staffers and program participants, and also serve as a community resource for neighboring businesses, organizations, and residents to use while exploring the Cathedral Hill area.

The Saint Paul & Ramsey County
Domestic Abuse Intervention Project (SPIP)
Interested in bike parking for your business?
If you're a business or organization in Saint Paul, you can contact us directly to add a bike rack! We take the project management and planning work off of your employees, and help you save time and money. Eligible projects can receive up to $1,000 in support. Fill out our form to get started.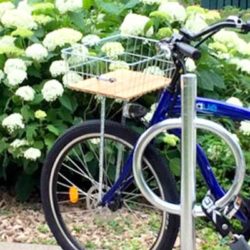 Interested in making sure the places you visit have bike racks?
If you know a business that could use improvements to their bike parking, refer us! Contact us to let us know, and we'll reach out to them about our services.
Looking for Saint Paul neighborhood bike parking?
If you live in a neighborhood and are looking for bike racks in your area, you can also check out the City of Saint Paul's neighborhood bike rack program. Learn more on the City of Saint Paul website.
Live in Minneapolis? The City of Minneapolis also has a bicycle rack and bicycle corral cost share program! Schools, libraries, parks, and other eligible public facilities can also request to receive racks at no cost. Learn more on the City of Minneapolis website.